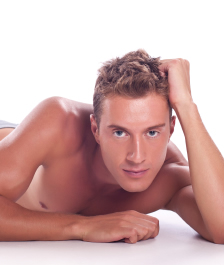 Hi, I'm Byron from Adult-Gay-Sex.com. This site was created specifically for gay men so that's what you'll find here. You will find gay dating profiles, gay webcams, uncensored XXX videos and links to other male on male web sites.
About Me: 
Name: Byron Wells
Age: 27
Identify as: Gay
Location: Los Angeles, CA
Ht/Wt: 5-10, 155
Turns me on: Nice chest and arms
Personal: Once took 7 men in one night
I knew from an early age that guys were for me. I preferred playing with other boys and was never attracted to girls. I talked with my folks about my sexual preference and they figured I'd grow out of it. It was that subject we never talked about. Well, I never outgrew it and here I am hosting a web site for adult gay sex. The folks are still cool and I'm comfortable with my sexual orientation.
I am a very active guy. I enjoy playing tennis, racquetball, swimming, and weight training. I am a sports junky and watch football, baseball, hockey and MMA events. I can cook a great meal for that special man who enters my life. Although I'm not looking to settle down with my Mr. Right just yet, I'm always interested in Mr. Right Now, and you never know what might happen from there.
Affiliated Sites Notice: All content hosted on Adult-Gay-Sex.com is free of charge. We provide links to affiliated sponsor sites which we believe may be of interest to you as a gay man. Adult-Gay-Sex.com is an authorized affiliate of MenNation.com, GayMaleFinder.com, Cams.com and AEBN.com. We may receive a commission for any purchases you make from these sites.